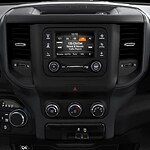 With lots of room and comfortable seats, the Ram 1500 is a popular light-duty pickup truck that gets the job done. It's a highly regarded vehicle that has a lot to offer, which includes plenty of driver assistance features for optimal safety.
There are instances when a driver will drift from one lane into another without actually intending to change lanes. When that happens, the Lane Departure Warning-Plus feature in the Ram 1500 will issue an alert. Advanced technology is used to detect the position of your vehicle.
The purpose of Adaptive Cruise Control in the Ram 1500 is to detect when you're too close to another vehicle. The system takes speed and distance into consideration, which is ultimately designed to keep you safe on the road.